Colonials still have high hopes for season
The Colonials, who are currently 9-12 overall (3-3 NEC), are hoping to stay more consistent in the final stretch as they face off against some tough opponents.
Middle blocker Kendra Harlow and right side hitter April Krivoniak agreed that LIU Brooklyn (6-12, 3-2 NEC), Sacred Heart (12-7, 5-1) and Bryant (12-11, 3-2) were going to be the toughest conference opponents. Head coach Dale Starr also agreed with them, but he felt Central Connecticut is a tough team as well.
The Colonials have lost to three of those teams so far, but they are eager to bounce back.
"I think if our leadership is as strong as it is and we continue to work hard in practice and we stick with what we're doing right now, we should bounce back pretty easily," said Harlow.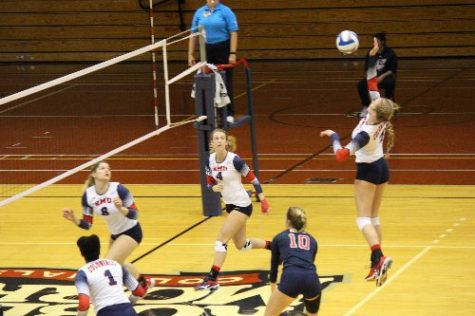 Krivoniak added: "This week, we are going to try to 'shake things up'; that's the words of the coaches and the mentality that's being portrayed in practices. I think it's going to be everybody stepping up their game individually to make it a collective success for the rest of the season."
The team had high expectations this season with repeating as conference champions at the top of the list. Although Robert Morris has been struggling up until this point, that doesn't mean that things can't turn around. Last year, the Colonials didn't win the regular season title, but they went out and won the Northeast Conference tournament.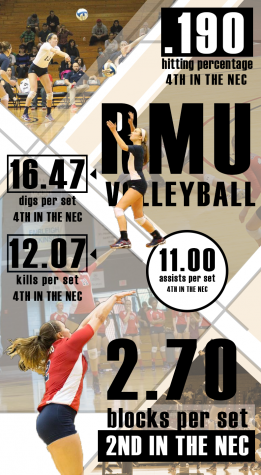 Something else important to note is that the Colonials are battling more than just the other teams; they are battling injuries as well.
"We had pretty lofty goals coming into the season and a variety of things have happened; we've had a lot of injuries that creeped up and disrupted our practices and disrupted our line-ups," said coach Starr. "We're still trying to get some people healthy; it seems like every time we get someone healthy someone else gets hurt."
Injuries aside, RMU will need to continue working hard in order to win games. The team has been improving throughout the season, but there are still a few key changes that need to be made.
Coach Starr added, "I think cutting down on our errors, which we did for the most part this weekend, is going to help us be more consistent and then we just have to keep working, keep battling through these injuries, keep battling through all of the little things that we have to do to win."
As of right now the Colonials are sitting on the outside looking in, but that can change in just a few games.