Colonials celebrate first win of season
In a hard-fought battle with Div. II opponent, Malone University, the Robert Morris Colonials scraped out their first win of the 2016 campaign, 21-19.
The Colonials (1-3) had a touchdown taken back after a holding call, which was followed up by a missed field goal to start the game. The Colonials wouldn't let that stop them, finally getting their first touchdown with just over six minutes left in the first quarter.
The Pioneers (1-3) were unable to answer with a touchdown of their own, having to settle for a field goal just under five minutes into the second quarter.
Robert Morris was able to fire back with another touchdown later in the quarter which put them up 14-3. Sophomore quarterback Matt Barr — who entered the game in place of the starter Andrew Romanchak — connected with sophomore wide receiver Warren Robinson in the back of the end zone.
"We played with a little consistency, played with a little urgency in the first half," said head coach John Banaszak. "We moved the ball very well, but still left points on the field."
Defensively, the Colonials stayed solid, holding the Pioneers to yet another field goal as they went into halftime leading, 14-6.
The defense continued to hold strong to start the third quarter, forcing Malone to punt on its first possession. Robinson received the punt on the RMU 19-yard line and started making his way through the Pioneer special teams unit. Robinson found a nice seam and returned the punt for a touchdown, giving Robert Morris its final points of the night.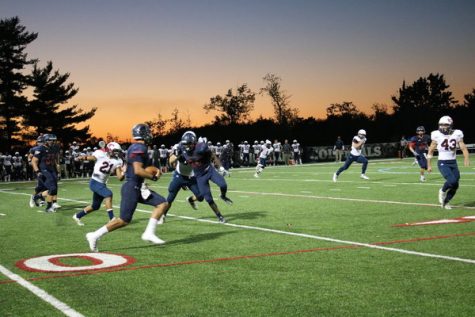 After a RMU fumble deep in its own territory during the third quarter and a defensive mistake late in the fourth, Malone was able to pick up two touchdowns. The touchdown in the fourth was followed by a failed two-point conversion that kept the Colonials ahead 21-19.
This would be the final score after RMU took a knee to drain the clock after a Malone onside kick.
The Colonials, now 1-3 on the season, will play Liberty next weekend in Lynchburg, Va.