A Personal Story: Skating from Delaware to Pittsburgh
January 23, 2019
MOON TOWNSHIP — For all 19 years of my life, I have lived in the small state of Delaware. I come from a small town called Hockessin. A fun fact about Hockessin: it is equidistant from New York City as it is DC. It was also featured in an episode of "30 Rock," where it was called "Hockassin, Pennsylvania." I have played hockey for the last 13 years and competitively for the last nine years. It has been a very interesting transition to hockey in Pittsburgh and from high school to college hockey as well. It also has been interesting getting a fresh start in an unfamiliar area.
It has been pretty odd moving five hours away with little to no contact from my previous home. It's not like I can just go home whenever I want to; a lot of planning has to go into it. In high school, I had a small group of friends, and moving on from then has been very tough. We were all linked through hockey as we played on the same high school and travel teams growing up.
Most of the kids from my neighborhood were two years younger than me and lived at the other side of the neighborhood, so I had to take a bike ride for a few minutes to get to their houses. While I played outside with them, that was pretty much the only interaction I had with them besides a fantasy football league, a few block parties and playful chirping at the bus stop every morning until about sixth grade where my bus stop changed.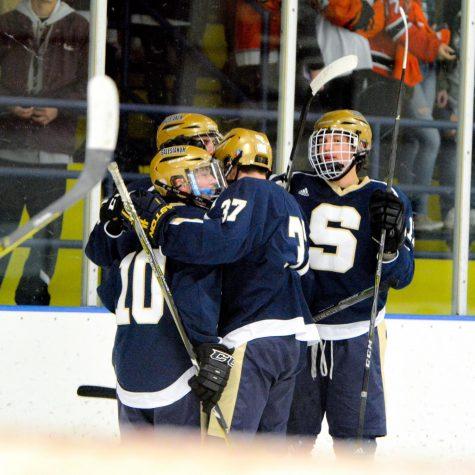 Hockey is where I made most of my friends growing up, and I continue to hold my hockey buddies dearly to me. No kids from my neighborhood played hockey either, which was not good because I would have loved to play street hockey with them. I had the perfect location for it too, as I lived on a cul-de-sac. In elementary and middle school I went to the same school for nine years, so I grew up with the same people until I got to high school.
I played on my first hockey team when I was nine, which was a middle school team known as the Wilmington Nighthawks. The team was not connected to the middle school I went to. My dad was one of the founding members of the team, and I was the last remaining player from the original season by the time I had grown out of middle school hockey.
The rink I played at was the Skating Club of Wilmington, which could barely be considered a hockey rink, as it is really designated as a figure-skating rink. It was low-key nasty, as you could see the bars under the ice and the whole place smelled like rubber. With barely-working arcade games and vending machines, and a school bell to sound the end of our ice time, SCW was a quirky but good home for a fledgling organization like ours, which has grown into so much more in 2019, 10 years after it first began. It was also off the beaten path, in the back corner of land that was mostly occupied by Rock Manor Golf Course. I always look back on fond memories of rolling my bag up the asphalt into the rink at seven o'clock in the morning with the sun shining brightly through the massive windows of the rink, making it hard to see the lines, and having my dad tie my skates to play hockey. I'm still waiting on the call for my number eight jersey to be retired.
In Delaware, there are only five hockey rinks in the entire state, and only three of them field competitive travel teams. Both rinks are located in Newark where they sit 2.5 miles apart. The University of Delaware rinks (Fred Rust Arena and Gold Arena) field the Junior Blue Hens, the team I played for throughout my travel career. The Patriot Ice Center (formerly known as The Pond until January 2018) fields the Delaware Ducks. Many of my friends in high school also played for these teams and since I grew up with them, we remained friends.
As you may have guessed it, with the two teams being in very close proximity and in the same league, they are rivals. Both organizations usually field good teams and the games between the two are always heated. It was also very close-knit as both teams knew each other personally in some capacity. You could go from being best friends one day to being mortal enemies the next day when you took the ice.
Playing for the Blue Hens helped shape me into the player I am today. I had the pleasure of having some great coaches along the way, including my father, who currently is the head coach to the University of Delaware Women's Hockey team.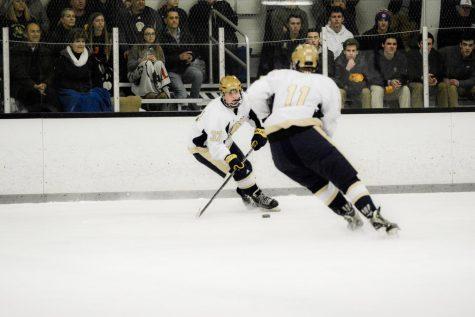 I abandoned all of my previous ties to the Nighthawks, as my style of play there was not going to cut it. From U12 to U18, I grew up with some of my closest friends and having the pleasure of playing with them and hanging out with them was something I will not soon forget.
Delaware High School hockey is also much different than other states. Most, if not all, of the teams in Delaware play at the Patriot Ice Center. I spent my high school career playing for Salesianum, which is one of the better teams from the state. This high school ironed out my play style and is a big part of who I am. The school won back-to-back Delaware/New Jersey Flyers Cups, which is our version of a state championship. I got to experience the championship game my senior year when we took down Eastern High from New Jersey 7-2 in what was the final game of my high school career.
While I didn't get as much ice time as I would have liked to that year, I was still happy to enjoy the championship with my two best friends, Liam and Colin, who had shared the same fate as me. We went to every practice and willingly manned the bench for most of the game. In the championship game, we finished out our careers on the ice. In that moment, nothing could have been better.
Getting involved with TV production at Salesianum was the main reason why I am here today. I took it all four years of high school and developed my love for broadcasting. If it weren't for my teacher suggesting RMU for their media program, I likely would not be sitting here typing this. I owe Mr. Salandria big time for this one.
Getting involved with Sentry was one of my best decisions to date, and I am excited to see what the future holds with this program. I've met some great people, especially my roommate Jon Hanna, who also writes for Sentry. I couldn't have asked for a better roommate. Definitely read his articles, he does an incredible job when he doesn't forget to include the Colonials' record.
After one semester at RMU, I am mostly adjusted to the campus, but I still have a lot to learn. The LEAD program helped me adjust to life on campus. I've gotten to know some great people and getting involved with other clubs and activities has helped tremendously. I am ready to take on my second semester at the school.
The transition itself, for me, was hard at first, but once I got to know the guys on the Division III club team, as well as meeting some great people on campus, it made it so much easier to move away from home. I have adjusted for the most part to the area and hope to continue to get better as a person and hockey player as I go on. Delaware, while not the greatest place to be from, is still a great place to call home, and Pittsburgh is a solid second home.