The post-Anna Niki era begins at Robert Morris with high expectations
On Saturday, Nov. 11, 2017, the Robert Morris women's basketball team will begin their 2017-2018 season on the road against Big Ten powerhouse Michigan State.
It will be the first game in a whole new era for the Colonials.
The post-Anna Niki Stamolamprou era.
As one of the team's most prodigal scorers in the history of the program finally graduates from the program along with some other all-time greats in Rebecca Navarro and Janee Brown, the program heads in a brand new direction, a direction that second-year head coach Charlie Buscaglia hopes is a step above the already-successful program.
Here are a few things to keep a lookout for this season.
Changing the gameplan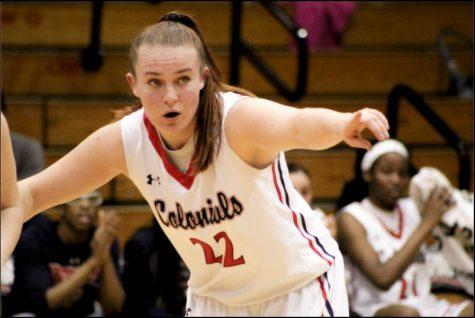 This year, the focus moves on to players like Megan Smith, Mikalah Mulrain, Nia Adams and Nneka Ezeigbo as the new core of players for this new-looking basketball team.
This team moves from a squad full of long-range scoring threats and some of the best shooters in program history to players with more post presence who are going to be battling in the trenches for every rebound and second-chance point.
Last year's senior class bid farewell to three guards, a starting trio to be reckoned with. This year's senior class gives Colonials fans a team built around two forwards, a center and one guard who look to provide both energy and experience from players who have been to the conference championship in every single year of their collegiate careers.
Senior firepower
Taking a bulk of the load for the senior class will be Megan Smith and Mikalah Mulrain.
Coming off of her selection to the All-NEC third team last season, Smith enters the season with a 40.9% career percentage from three-point range, and that makes her the most efficient three-point shooter in the history of the program. Along with that, she is coming off a season where she broke the single-season school record for free throw percentage. A physical player who can also shoot from range, expect Smith to light up the scoreboard and grab a few boards of her own as she gets near double-digit territory in almost every game.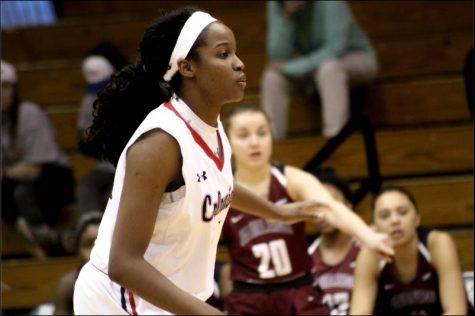 Mulrain meanwhile, brings a defensive aspect to her game that makes the Colonials far more multi-dimensional when she is on the court. Averaging a block per game last season, Mulrain led her team in that category while being ranked seventh in the NEC.
But while these seniors bring notable success and proven flare to the court, it's another recruiting class stocked full of international prospects that fans should keep a close eye on.
Buscaglia goes around the world for 2017-2018 recruiting class
This year's class sports athletes from all over the world, including Finland, Spain, Japan and England. That means that this year's team sports players from five different countries other than the United States.
The most notable recruit, and the most likely one to fill the void left by Stamolamprou, Navarro and Brown, is Bristow Virginia native Megan Callahan.
Callahan was rated at an 87 overall out of 100 by ESPN and was considered a three-star recruit. Her decision to head to Moon Township was one of the program's most significant signings in recent history. Expect Callahan to be one of the freshman making an immediate impact on the court.
Who will dethrone the Colonials?
It appears it's the same story, different season for the teams to watch in the Northeast Conference. The team which handed the Colonials their biggest conference loss of last season, Saint Francis University, sits atop the NEC preseason polls.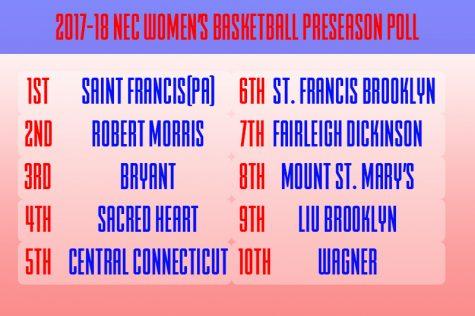 The Red Flash, who were one of the highest-scoring teams in the entire nation last season, return two of their three leading scorers. Jessica Kovatch, who averaged 21.2 points per game last year, and Ace Harrison, 12.8 points per game and 8.8 rebounds per game, both return to continue to wreak havoc on the NEC.
Robert Morris University's conference championship opponent from last season, the Bryant Bulldogs, come into the preseason poll ranked third just behind the Colonials and are looking to again reach the conference championship game in hope of a different result.
Season outlook
This looks to be another successful season for the Robert Morris Colonials who look to claim their fourth NCAA tournament appearance in the past five years. But to do that, they will depend on the performances of some of their younger players.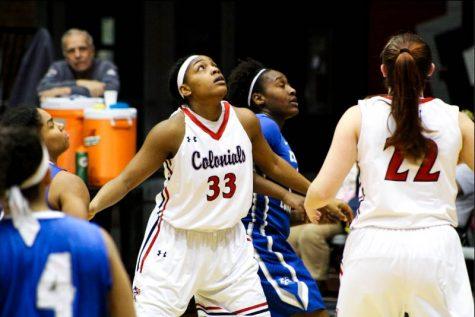 Junior Nia Adams is presented with arguably her greatest opportunity to make a direct impact this season. Lots of depth at the guard position along with injuries really limited her role last season. Adams has the talent to be successful, and now it's about taking advantage of the opportunity.
Sophomores Nneka Ezeigbo and Nadege Pluviose look to continue their success from last season. Ezeigbo dominated under the basket, averaging 6.8 points per game and 4.8 rebounds per game. With her role looking to increase this year, expect those numbers to rise.
Pluviose started to emerge towards the end of last season with some big-time postseason performances, including a 13-point explosion against Fairleigh Dickinson in last year's NEC quarterfinals game.
If all the pieces fall together for this Robert Morris team, the sky is the limit, and another NEC championship is within grasp.
Leave a Comment