Banaszak looking to vets for special teams aid
It's no secret today that in order to be considered a good football team, consistent production is a must in all three facets of the game; offense, defense and special teams.
Offense puts people in the seats. Defense wins championships. The clichés go on forever, but they aren't always the answer for a team to be successful.
A lot of the time, the most important facet within a game is the one most people overlook. In Robert Morris' case, special teams has been a glaring problem thus far, and enough is enough for head coach John Banaszak and his staff.
"We really haven't done anything on special teams to help us get to where we need to be," he said after the 50-3 loss to Lafayette last weekend. "We've got to find some answers. Whether it's instead of playing all the freshman and getting that baptism under fire, maybe it's time for us to look at some veterans on special teams to get the job done."
The Lafayette game was a prime example of a cause and effect scenario where special teams made a direct impact on the game. On RMU's first three drives, they started at their own seven-, five- and nine-yard line respectively, due to penalties on the first two returns and a missed block on the third.
Spotty field position caused offensive coordinator Darrin Hicks to run on first and second down in a safe attempt to work out of the hole. However, with the offensive line getting zero push, tailback Rameses Owens had nowhere to go.
"That changes your game plan immediately," said Banaszak. "Now you've got to be a little more conservative in your playcalling and it was a huge mistake for us."
The Leopards were all over it, and by the time quarterback Luke Brumbaugh dropped back on third-and-long, the defense was already in heavy pass coverage. The first three Colonial offensive possessions ended in two three-and-outs and a pick-six.
Had kick returner Kenny Davis been able to make it out to the 30-yard line and give the offense better field position, the situation may have been different.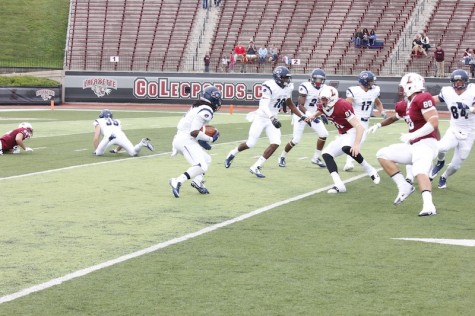 Or had that 15-yard clip not taken back a relatively solid punt return from Antwan Eddie, the first quarter may have been different. Maybe those early Brumbaugh interceptions would never have taken place.
They at least don't get returned for easy scores to give the Leopards a 14-0 lead.
There's no sense in dwelling on the what-ifs from Lafayette, but it just goes to show that special teams matter and can harshly impact Robert Morris on offense. Against Dayton Saturday, the entire special teams unit could have various changes in personnel. The head coach is looking to the older players to provide a spark.
"We have some freshmen that understand what it takes to play on special teams, which is a huge benefit for us," Banaszak said. "There are still some that haven't figured it out yet, but there's still going to be spots for them to play. They're backing up our veterans."
Another question remains at long snapper. Robert Morris sure is missing defensive end Luke Sweeney from last season, who was almost perfect at the position.
Up to this point, sophomore defensive tackle Zack Zamiska has been handling snapping responsibilities, but it looks as if those days are finished after he soared one over punter Tony Lamancusa's head and into the back of the end zone for a safety against Lafayette.
The majority of his snaps last week gave Lamancusa problems, and it's been an ongoing issue now for three weeks. Judging from practice yesterday, things will most likely change.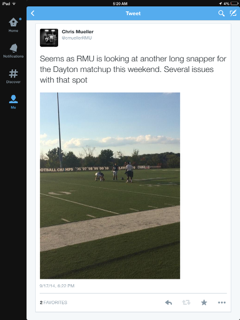 The Colonials do not have a member on the coaching staff specifically for special teams coordinating.
Banaszak runs the entire collective unit, and they've been a part of his day-to-day responsibilities dating back to when he was assistant head coach. He has a pretty good track record as well, with current players like Lamancusa and Eddie receiving conference and national recognition. They go over special teams every day in practice, and constantly pick apart and analyze different plays on film.
Now, it's a matter of getting the right personnel in place, whether it be a veteran or a freshman, and not letting the unit remain an issue moving forward.