Taylor poised for big year alongside mentor in Eddie
First year starter David Taylor is looking forward to a solid year in the RMU secondary alongside All-American Antwan Eddie
Football is a sport of effort, taking advantage of every opportunity and moment, while making the best of every situation.
As the Colonials' season opener against Eastern Kentucky draws near, one player who continuously has made the most of every scenario is junior defensive back David Taylor.  Taylor replaced Marcellus Branch at the starting corner position since his suspension last semester.
"I've wanted the starting position since I came here as a freshman," said Taylor. "I have just been working all summer trying to get better."
Taylor impressed coaches all through camp, showing numerous bright spots on the defensive side of the ball and on special teams. He quickly showed that he could step in for Branch without giving the Colonial defense a setback.
The improvement Taylor has shown from last year to this season is an evident product of dedication put in during the offseason training program.
But there's another factor playing a part in Taylor's continued progression: Senior defensive captain, and fellow cornerback Antwan Eddie.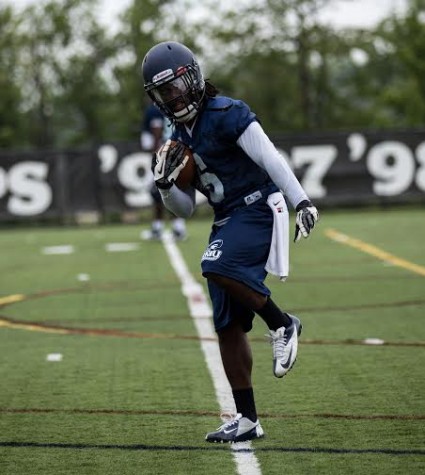 The two lived together throughout the summer, working day after day trying to perfect different elements of their game.
Whether it be through life at RMU, or hailing from their shared home state of Florida, the pair have a connection that stretches far beyond just football.
"First off, David Taylor is a great player and a great person," said Eddie. "I've taken him under my wing more than any of the other defensive backs."
"
He let me know it won't always go your way some plays, things are going to happen, especially at the cornerback position."
— David Taylor
Taylor holds a large appreciation for the mentor type role Eddie has played to help his career.
"He's just been great, showing me all different drills and techniques to help me work on my craft," said Taylor. "He let me know it won't always go your way some plays, things are going to happen, especially at the cornerback position. So you just always have to make sure you keep your poise and bounce back."
The defense as a unit has been working hard, firing off the ball on the line and gelling well in the secondary. They will have their hands full, playing against a high-powered offensive team in Eastern Kentucky, who has scheduled big name teams including the University of Florida to finish off their season.
The game plan for Taylor on the defensive side was simple.
Physicality.
"We just have to come out and hit them first, really smash them in the mouth," he said. "Just be aggressive, physical, and ready to play."
The Colonials play their season opener this Thursday at home, starting at 7 P.M.