Women's soccer conference preview: Confident Colonials ready for conference play
The 2017 RMU women's soccer team opens their conference schedule this Friday, September 29th against Bryant University. The Colonials have a record of 2-7-0 through non-conference play. Bryant University has gone 6-1-2 during their slate of non-conference games, giving them the best record out of all Northeast Conference teams. The Bulldogs are also the only team in the NEC with a winning record at this point in the season.
Junior forward Jane Schleicher, RMU's leading scorer, believes RMU has had their fair share of tough opponents so far this season.
"We played a lot of difficult, high-level teams in non-conference play, which is definitely good prep for conference play," Schleicher said. "I think we'll be ready to go," Schleicher added.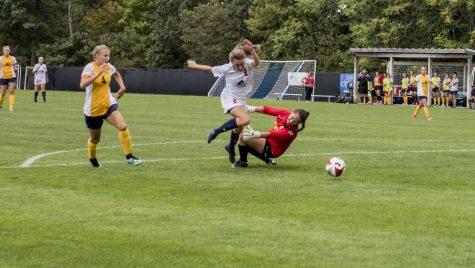 Schleicher, has been leading her team in the goal-scoring department along with fellow teammate and sophomore midfielder Kristina Kelley, who is second on the team in scoring. The dynamic duo has accounted for eight of the team's nine goals on the year. In addition, both Schleicher and Kelley are tied for first and second respectively in goal scoring and points in the NEC.
"We have about a year and a half of building on that chemistry, and we're also pretty close off the field which I think does help a little bit. She had a position switch this year, she's forward and I'm in the middle, and I think that's made a big difference in our offense," said Schleicher on teammate Kristina Kelley.
Head coach John Kowalski, who was the NEC coach of the year in 2015, has a certain number of wins in mind heading into NEC play.
"In order to make the playoffs, I think we have to win five games. Our expectations are to be in the conference playoffs," Kowalski said.
He understands that most of the team's scoring has come from two players.
"Erin Ritzer is coming back from injury, and we're waiting for Greer Monahan and Kasia Bak to step up and help the team," Kowalski said.
Ritzer, Monahan and Bak are three of the six seniors on the team and have all shown they are capable of contributing not only through leadership, but also scoring goals.
Ritzer, the redshirt senior, had her first goal of the season in RMU's most recent game at Fort Wayne on Sept. 17. She also had five goals and three assists during her sophomore year in 2015.
Monahan, who is also a senior, has gone without a point through the first nine games but put up two goals and one assist last year. Bak, another senior who has gone pointless to start the season, was the team's leading scoring in 2016, tallying two goals and four assists.
The Colonials have also been helped by strong defense and goalkeeping, allowing just 20 goals in nine games. Kayla Kelley, sister of Kristina, is a senior defender and has been a three-time All-NEC selection since her freshman season. She was Rookie of the Week and made 1st Team All-Conference in 2014 and was 2nd Team All-Conference in 2015.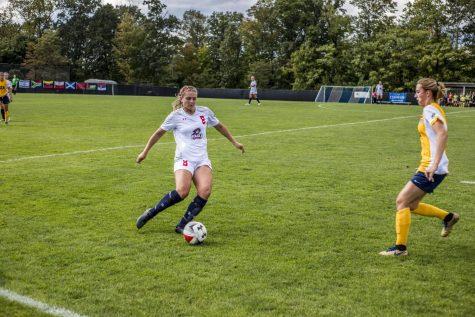 Samantha Lackner is another strong defender for the team and is in her junior year. Lackner has played 90 minutes or more in all nine of the team's games so far this season.
Sydney Bruckner has been Robert Morris' primary goalkeeper, playing in eight of nine games this year. The freshman goalkeeper has posted a 2.13 goals against average and has a save percentage of .682 to go along with her thirty saves.
Julia Schmid, the sophomore from Wenzenberg, Germany, has played in four games for RMU and has a 2.40 goals against average and a .625 save percentage with 10 saves.
The team went (4-4) last year in conference play, which included all four wins coming from four straight 1-0 shutouts. This year, the Colonials open with two straight home games against Bryant and Sacred Heart.
Then, from Oct. 8 to Oct. 15, the team goes on the road to play away matches against Saint Francis, LIU Brooklyn, and Central Connecticut. Then, they come back home for two home games the 20th and 22nd of October versus Fairleigh Dickinson and Mount St. Mary's before going to New York to play Wagner for the final match of the regular season Oct. 29.
The 2017 Colonials lost just three seniors from last year, and the team consists of eleven total upperclassmen (six seniors and five juniors).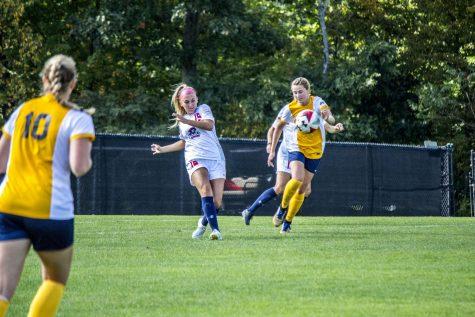 "We were a young team, considered to be a young team last year. Now we have pretty much the same roster at this point as last year. Everyone has a year of experience under their belt, and it has been really helpful," said Schleicher.
Coach Kowalski and his team will now focus their attention on their first match of the conference schedule where they will face the Bryant University Bulldogs. In last year's meeting, the Colonials were defeated by a score of 2-0.
This year, the team will approach Bryant, "With a level of cautiousness and respect. We are going to try and play our game as much as possible," said Kowalski.
"We have two players who are doing very well and scoring goals, they are going to be difficult to stop. I think we are going to be able to score one or two. We have to be organized defensively very well and go for a win," said Kowalski.
The team's challenging slate of non-conference games has prepared the Colonials well for NEC play.
Robert Morris will open up this Friday, Sept. 29 at 3:00 p.m. against Bryant University at the North Athletic Complex. On Sunday, Oct. 1, RMU plays Sacred Heart at 12:00 p.m. for Friends and Family Day, also at the North Athletic Complex in Moon Township, PA.