RMU volleyball's new leading lady: Emma Granger
Emma Granger hopes to be part of the solution in a winning formula for RMU women's volleyball
September 14, 2017
This year, the Robert Morris Colonials women's volleyball team welcomed eight new freshmen. Among them is 6-foot-4-inches-tall Emma Granger.
Granger is a middle blocker from Dalton, Ohio, whose high school resume turned out to be quite impressive.
In her high school career alone, she was named District Player of the Year and Daily Record Player of the Year in 2016, Division 4 First Team All-Ohio and WCAL Player of the Year, and she is a three-time First Team All-District, First-Team All-WCAL and First Team All-Daily Record honoree. Granger also ranks fifth in the entire state of Ohio in career kills.
She brings an all-star pedigree to Moon Township and has already made an immediate impact on the team this season. Granger already leads the team in kills, 12 matches into her freshman season.
But not only is she a star on the court, Granger also contributes to improving the lives of others in everyday life.
Granger was part of an organization called Young Life in high school.
Young Life is an organization that helps influence kids to be strong in their faith, as well as have fun and build relationships with others who share their faith.
"I think that it (Young Life) really has helped me a lot. Just in my faith, and in the decisions I've made along the way," Granger said.
One of those decisions was to make a switch of schools to a much smaller university in RMU.
Granger was originally committed to West Virginia University.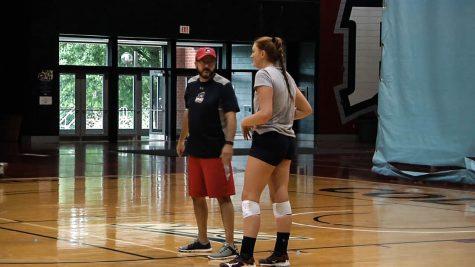 "It (West Virginia University) just wasn't the right fit for me. I was really excited to commit there, and it felt right at the time. But the closer it got, the more I was like, this just isn't the right school for me," Granger said. "I found Robert Morris, and I was like, 'whoa,' this is where I need to be; this is the right school for me," Granger said.
Granger is very enthusiastic to be a part of the RMU volleyball team this season. She's also looking forward to accomplishments that she can contribute to with her new team as they continue to compete in the 2017 season.
With the welcoming of eight new players this season, it draws questions as to what the team is going to be like come two to three years from now or even next season.
Granger is excited to play with her fellow classmates and thinks their chemistry will grow over the years.
"It's a lot of fun. We're all so young and we're like learning together. It's going to be really exciting to see what we can accomplish in our four years here. I think that by the time we're seniors our chemistry is going to be like insane," Granger said.
With seven upperclassmen on the time, there's no lack of players to look up to.
Granger believes that the upperclassman will be influential in the success of the large freshman class.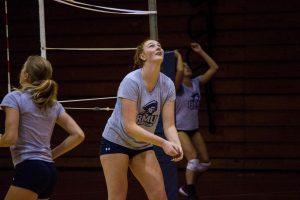 "I look up to Taylor (Lord) a lot. We scrimmage at the end of practice, and I always get really excited when she's on my team because I know she'll tell me little things I need to work on and she's really there to just push us, and help us," Granger said.
Taylor Lord is an outside hitter entering her junior year at Robert Morris University, as well as her third year as part of the Colonials volleyball team.
Granger also sees a specific senior player on the team as someone to look up to as well.
"I also look up to Bri Frakes a lot. She's a really good setter, and she again like really pushes us to be our best which is a lot of fun and just really helpful," said Granger.
Brianna Frakes is one of only two seniors on the Robert Morris volleyball team. Her leadership as a setter, as well as one of the most experienced players on this young team, will hopefully help lead them to an NEC title.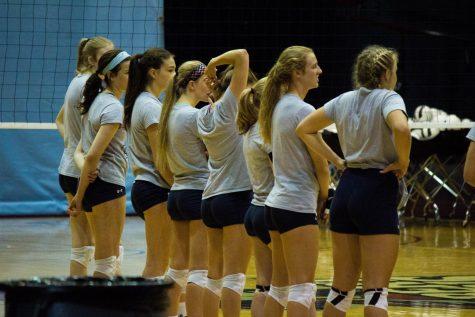 This season, the Colonials are made up of only seven upperclassmen, and eight freshmen. Their goal as a team, however, is one and the same: to be the NEC Champions.
Granger is going to bring a whole other level to this Colonials team, through her already apparent leadership, as well as her competitive mindset.
Robert Morris kicks off their first home match of the season against Middle Tennessee on Sept. 15 at 1:30 p.m., during the Robert Morris Invitational.