RMU poised for turnaround with NEC approaching
By Ian Kidd, Staff Reporter
September 26, 2014
After a disappointing start to the season, the Robert Morris women's volleyball team will begin its Northeast Conference play this Saturday at home in the Sewall Center.
RMU played the second hardest non-conference schedule of the NEC, behind only juggernaut Long Island University of Brooklyn. The intense level of competition was seemingly too much for the team to handle, posting a 1-10 record to date with a losing streak resting at seven matches.
However, a below average start to the season does not spell doom for the team. They began conference play with a similarly dismal record in 2013 before storming back, ending their season with a playoff semifinal loss to eventual conference champion LIU-Brooklyn.
"It's similar to what it has been the last three or four years," head coach Dale Starr said. "I schedule a lot tougher in non-conference than we do in conference, and we really let four or five matches slip away this preseason."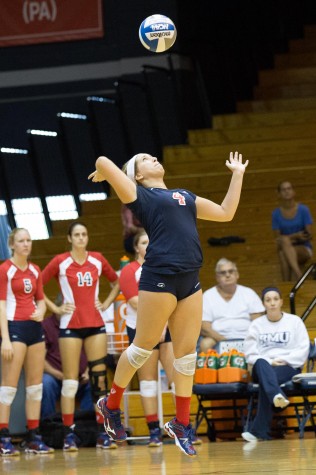 The good news for Robert Morris is that the rest of the season will be played against a much more manageable set of teams in an environment in which they're a lot more comfortable.
"These kids always have a different mindset when we go into conference," said Starr. "It means more to them because of the fact that the only way that we get where we want to be is to win our conference."
Of the eight teams, Robert Morris is slotted third in the preseason coaches poll. LIU-Brooklyn is the preseason favorite after winning the NEC the last two years. Central Connecticut State, a team the Colonials were defeated by in both meetings last year, holds the second position.
"It doesn't matter who is on the other side of the net," senior Melissa Bograd said. "It could be a top 10 team or it could be a bottom 300 team. It doesn't matter what they do, we still have to play our game."
Long Island is clearly the team with the most to lose this season after hoisting the tournament trophy in 2012 and 2013. Their season is off to a hot start, especially following an upset of No. 25 Michigan State in the Spartan Invitational.
Saint Francis (PA) and Saint Francis (NY) are looking to make themselves relevant again in the NEC with new head coaches being named for both programs.
"There's a lot of change in the conference this year," said Starr. "There's a lot of not knowing what to expect."
RMU's journey back to the top begins with a match against Fairleigh Dickinson this Saturday at 1 p.m. at the Sewall Center.