Betts stepping up for RMU Volleyball in wake of injury
By Ian Kidd, Staff Reporter
September 15, 2014
The fate of the Robert Morris volleyball team's 2014 season hung in the balance when Arden Fisher suffered a leg injury during the Duquense/RMU Invitational on September 5 in a match against Indiana State. With the condition of Fisher uncertain going forward, the team needed a secondary player to step up in a big way.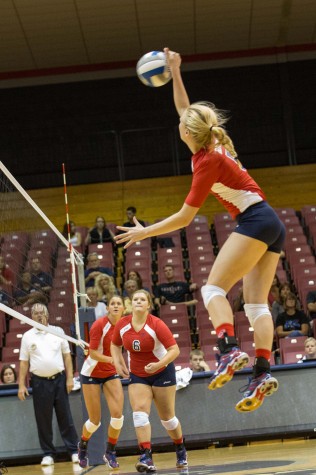 That's when sophomore outside hitter Madelyn Betts came into the picture.
In her first real action of the 2014 season, Betts was a major contributor alongside senior Becky Jay, keeping the team competitive in the night contest against Youngstown State.
"I knew I had to step up with Arden out," said Betts. "I knew I had to try and make up for her absence on the court."
Betts played the front row position that Fisher usually held, and capitalized on the opportunity given to her. Against the Penguins, Betts had nine kills and three digs, showing off impressive athletic ability and keeping the unit competitive even without their star.
"Madelyn stepped up in her first significant action of the year," said head coach Dale Starr. "She did a really nice job for us."
She posted career bests in digs and kills against Youngstown State, breaking her previous record of two from last year.
In her freshman season, Betts saw action in a mere six sets. This year she will surely surpass that as well.
Betts looks forward to having a larger role in the team's game plan on the court, looking to the upperclassmen and coaching staff to help her continue improving.
"[The team] has really motivated me to fix my errors. They stay on me to continue working hard," Betts said. "They help me believe in myself."
Since the Invitational last weekend, Robert Morris has been on a road trip, losing three straight matches in the Omni Invitational tournament in Colorado. They are slated to play in Ohio and Michigan before finally returning home to the Sewall Center on September 27 in an NEC competition against Fairleigh Dickinson.